CMP Featured in Michigan Series on Empowering Mathematics Educators
Release Date: Mar 1, 2021
Tags:
A Slice of Pi for Everyone: Developing Student Learning with Equity-Based Teaching Practices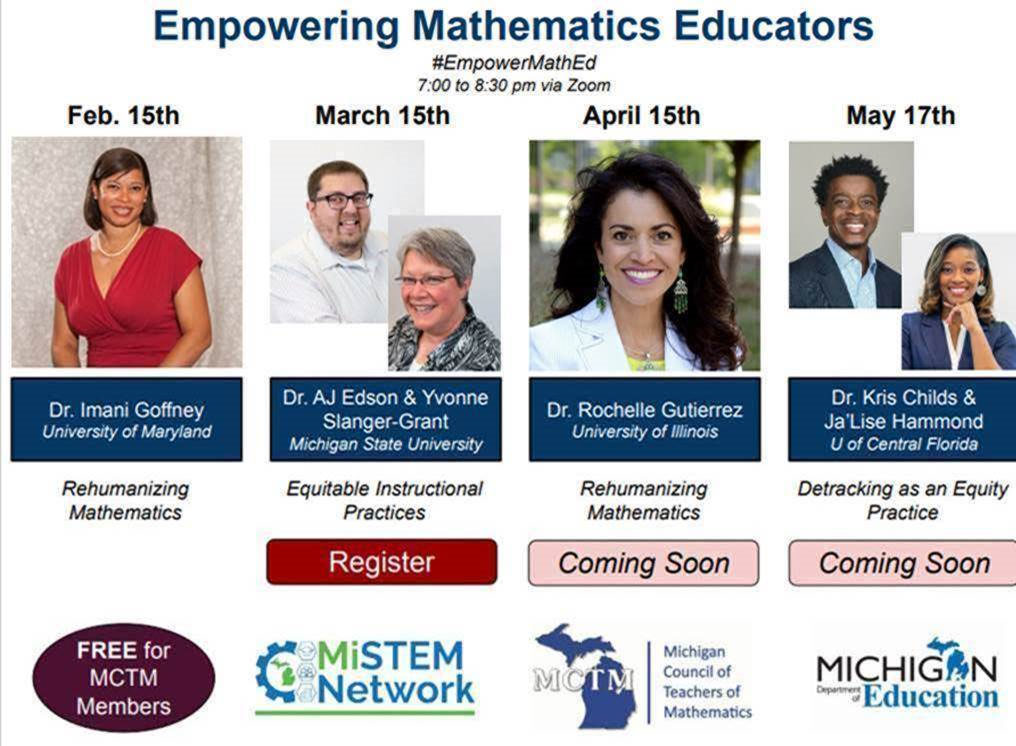 Join us on March 15 from 7:00 to 8:30 pm to learn more about Equitable Instructional Practices
Dr. AJ Edson and Yvonne Slanger-Grant are the third in a series of guest speakers. They will focus on developing student learning with equity-based teaching practices. Participants will engage in conversations about how to understand, appreciate, and draw on student understanding of mathematics to further students' development, authority, and agency.
AJ Edson is a Research Assistant Professor of Mathematics Education at Michigan State University. His research focuses on secondary school mathematics curriculum design and development using design-based research methodologies. AJ is interested in studying the enactment of curriculum materials in a digital world and the affordances of innovative mathematics curriculum materials as a context for teacher learning. Currently, he works on initiating and implementing research and development grants related to the Connected Mathematics Project.
Yvonne Slanger-Grant is an Academic Outreach Specialist at Michigan State University. She is currently out of the classroom working as a professional development coordinator and teacher in residence at the Connected Mathematics Project. Her work involves all aspects of the development, implementation, and professional development of the CMP curriculum.
Register at Michigan Council of Teachers Empowering Mathematics Educators - Session 8
Visit Michigan Council of Teachers of Mathematics for more information.